Why and where shoud I start with Bitcoin?
28-11-2023
Introduction. Liberbits publishing efforts mainly focuses around the advent and further adoption of Bitcoin. Bitcoin's invention is based on the combined knowledge of decades of cryptographic and computer science research. Within a decade after the launch, it has grown into an indestructible, antifragile decentralized P2P-monetary network with a max supply of 21 million BTC. It is widely considered as programmable, dematerialized gold for this internet and digital information age. Gold has been the sound money for mainly the elite in the past, Bitcoin is the sound money for all the people in the world in the future. Most people on the global do not have access to financial services and do live under unstable and devaluating fiat-currency regimes. Bitcoin is an open-source public network with a predefined, transparant sound money currency regime, available for anyone with a smart phone and internet connection. With a bitcoin wallet app it is easy to start using the bitcoin network as a means of payment and savings.
More and more traditional legendary investors, like Stanley Druckenmiller and Paul Tudor Jones are advocating for a long term bitcoin investment in order to perserve and build wealth for the future. Michael Saylor, the CEO of MicroStrategy, has a profound understanding of this new asset class and the further implications of the adoption of bitcoin.
Michael Saylor has been inspired by Ross Stevens, the CEO of the New York Digital Investment Group (NYDIG). NYDIG is building an inclusive financial system that makes Bitcoin a universal option for billions of people worldwide. Bitcoin is a resource for human progress, and NYDIG is the gateway for financial institutions like banks. Indeed, banks in the USA have now the option to add bitcoin services to their traditional banking products.
Bitcoin is as a new asset class in principle competing for inflation hedges and store of value assets with a global approximate value of $500 trillion. Banking services are going to be build around the Bitcoin technology stack and the asset. Only the DeFi-applications are competing with the current banking sector. Thus, interestingly Bitcoin is not only incrementally getting adopted by investors, but also by banks. We recommend our readers to listen to the below interview with Ross Stevens on the beauty of Bitcoin:
The need for a digital gold and unconfiscatable property in cyberspace is urgent. The current monetary climate with unlimited debt creation, negative yielding debt, low to negative interest rates, inflation and currency devaluations has led to a search for alternatives. Indeed, bitcoin is considered as a decentralized alternative for central banking and provides us with a new transformative savings technology and absolute scarce digital asset class. As an emerging new digital asset class, bitcoin is increasingly more used as an inflation hedge and a strategic reserve asset by investors and corporations. Bitcoin is added as a new asset class next to real estate, gold and oil (commodities with monetary value). As an inflation hedge bitcoin is more and more viewed as a credit default swap on the failing monetary policies of nation states and central banks. For more information: why is bitcoin a CDS?
The paradigm shift in building and preserving our human time and wealth
The traditional store of value assets carry a monetary premium that we have defended with human lives. It is protected and defended with military and rule of law. The chain of custody is written in blood.
Bitcoin will disrupt and suck in more of their monetary premiums. By transporting their monetary premiums into cyberscpace using a digital absolute scarce synthetic commodity, we replace the cost of human life with the cost of an electricity bill for defending our wealth. Bitcoin is protected and defended with physics (electricity) and maths (code).
The invention of Bitcoin has as a technology far reaching implications for our financial future, it represents a mind blowing unique historical event in our financial history.... it is an unprecedented financial paradigm shift we are now all part of. In the picture below you can see how Bitcoin is going to disrupt the monetary use case of other asset classes with a combined approximate value of $500 trillion: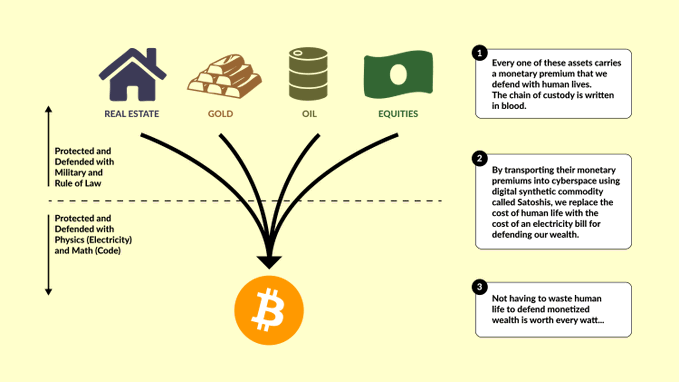 How should I start with Bitcoin?
Getting started. There are plenty of options where you could start your bitcoin journey. It is essential you pick a trustworthy bitcoin exchange. LiberBits has made a selection of the best exchanges where you could start as a beginner and as an advanced trader. LiberBits recommends our readers to open an account with one or two of the below mentioned exchanges and compare them:
Bitvavo Exchange - Amsterdam.
Bitvavo is a leading European cryptocurrency exchange. Bitvavo has a maximum trading fee of 0.25%. The simple and advanced interface for experienced traders make the currency of the future accessible for everyone for the lowest price. Bitvavo is trusted by brokers and institutional investors. It is one of the first digital asset provider in Europe with an insured cold storage solution. Bitvavo aims to be at the forefront of regulatory compliance, technological innovation and security in the digital asset industry, which is developing at an increasing speed. Bitvavo uses data centers compliant with the following certifications: ISO 9001, ISO 27001, ISO 27017, PCI DSS Level 1, SOC 1 - 3. These standards help Bitvavo to achieve high levels of security and compliance in its cloud infrastructure. Furthermore, Bitvavo provides their clients with an Account Guarantee. In essence, should someone gain unauthorized access to your Bitvavo account and misappropriate funds, you may now be eligible for a reimbursement of up to 100.000 EUR. For more information: visit Bitvavo.
Gemini Exchange - New York & London
Gemini is a licensed New York trust company that undergoes regular bank exams and is subject to the cybersecurity audits conducted by the New York Department of Financial Services. SOC Certifications - Gemini is SOC 1 Type 1 and SOC 2 Type 2 compliant. Gemini is the world's first cryptocurrency exchange and custodian to complete these exams. Insurance Coverage - all crypto held online in the exchange wallet is insured and they use best-in-industry cold storage coverage with leading insurance providers. For more information: visit Gemini.
Bitstamp Exchange - London
Bitstamp is operating since 2011 under a payment institution license in the EU, BitLicense in New York, and they are subject to regular audits by the Big Four, the four largest accounting firms in the world. Bitstamp stores the assets safely offline, provide protection through BitGo's insurance policy, and offer additional crime insurance for online wallets. Topmost security of bitcoin is their top priority. Bitstamp is a reliable, classical bitcoin exchange and serves many institutional clients. For more information: visit Bitstamp.
Kraken Exchange - San Francisco
Kraken is one of the largest and oldest Bitcoin exchanges in the world, Kraken is consistently named one of the best places to buy and sell crypto online, thanks to their excellent service, low fees, versatile funding options and rigorous security standards. For more information: visit Kraken.
Bitfinex Exchange - Global
Bitfinex is the longest-running and most liquid major cryptocurrency exchange. Founded in 2012, it has become the go-to platform for traders & institutional investors. Bitfinex strives to achieve it by providing the users with state-of-the-art trading tools, innovative technology and unparalleled levels of customer service. For more information: visit Bitfinex.
Binance Exchange - Global
Beyond the world's leading cryptocurrency exchange, Binance spans an entire ecosystem. Binance offers their users everything they would desire and more. It is a labyrinth of possibilities. Binance has a spot & futures exchange, DEX, P2P-marketplace, savings accounts, debit card, lending facilities, staking options, research division, startup incubator and launch pad, etc. Customer service is not always the best compared to other exchanges. For more information: visit Binance.
Hodl Hodl P2P exchange - decentralized
Hodl Hodl is a global P2P Bitcoin trading platform, that allows users to trade directly with each other and it doesn't hold user's funds — locking it in multisig escrow instead. This minimizes the possibility of Bitcoin assets theft and reduces trading time. Because Hodl Hodl does not hold any money (neither Bitcoin, nor fiat) it is not subject to complex compliance procedures. This allows trades to happen directly between users' wallets and without having to submit your identity to the trading platform. Another important feature of Hodl Hodl is that you can trade Bitcoin in any location in the world, use any payment method, and be paid in any currency. For more information: visit Hodl Hodl.
Do not trade, but apply a DCA and HODL method
The next step is to learn as much as possible about Bitcoin and don't trade it if you are not a professional trader. LiberBits recommends their readers to adopt a simple DCA-method to accumulate Bitcoin (BTC). Bitcoin dollar cost averaging consists in investing a fixed amount of EUR, into BTC, on regular time intervals. You'll often see it referenced by its abbreviation of "DCA".
Purchasing 100 euro every week, for example, would be dollar cost averaging. This strategy is mostly used by investors that are looking to purchase Bitcoin for the long-term, since it protects them from potentially allocating all their capital at a price peak. Only invest your savings you can allocate to bitcoin for a long term period and potentially sell of some bitcoin during a bitcoin cycle peak.
Furthermore, LiberBits does not recommend to buy other crypto assets. Investors should start by investing in education not with speculation with other unrelated crypto assets and tokens. LiberBits recommends our readers to check out the following bitcoin educational sources:
Educational sources:
This information is not investment advice. Do you own due diligence before investing in bitcoin.